Amazing 32 Best Travel Sites in Lombok|Jurnalis Jombang
Lombok Island is an island in the Lesser Sunda Islands or Nusa Tenggara are separated by the Lombok Strait of Bali in Sebelat the west and the Alas Strait to the east of Sumbawa. The island is roughly spherical with a sort of
Lombok itself is an area that has a myriad of sights very beautiful such as natural attractions, beaches and tourist marine are all in Lombok , if you want a vacation this is where the ideal, guaranteed you will not be disappointed, especially if you are visiting with relatives, a couple or a family vacation you will be guaranteed to be more fun.
Here's 32 Best Places list in Lombok mandatory must-visit if you're visiting L ombok .
1. Mount Rinjani
Mount Rinjani is one of the tourist attractions in Lombok are officially defined its status as a national park, which is a protected ecosystem Indonesian government with the character of mountainous rain forest and savanna. The area of this national park is about 40 thousand hectares. Mount Rinjani on Lombok, North section with a height of 3,726 meters above sea level, and is the second highest volcano in Indonesia after Mount Kerinci. Mount Rinjani has a wide crater, there is a crater lake called Lake Segara Anak. Many become favorites are ascent path that holds its own beauty in all of Asia.
2. Senggigi beach
Senggigi Beach is one of the sights in Lombok most visited by tourists. Located in the western part of the island of Lombok. Senggigi Beach in Lombok has a beautiful beach that captivates. Many foreign tourists who come to this beach. Senggigi Beach was transformed into one of the attractions in Lombok with a view of its long coastlines, truly captivating when viewed from a distance and altitude. With a long coastline and firm, presenting Lombok Senggigi Beach sand shades from black to white. Sea water has waves that are not large, clear, and clean. The things that make Senggigi Beach in Lombok become one of the favorite tourist spots for foreign tourists. Senggigi Beach because of very exotic palm trees are so much because of the panorama is so nice, sunsetnya was also very nice when seen from Senggigi beach.
3. Kuta Beach Lombok
Kuta Beach Lombok is located in Kuta village, located not far from Lombok International Airport. Geographically, this beach is surrounded by the natural hills. Additionally, Kuta Beach Lombok has white sand beaches and generally not much visited by tourists. Do not be surprised if the beach was deserted when you visit them. In fact, you can also make this place for fishing, snorkeling, diving, and horse riding. This place feels how his friendly to be used as getaways are beautiful and comfortable. Highly recommended for you are very fond of tranquility on the beach that became Places in Lombok's favorite.
4. Beach Selong Belanak
Selong Belanak beach is is one of the tourism in Lombok charming. Selong Belanak beach is located in Central Lombok regency, has white sand beaches and clean. Grains of sand on the beach is so fine, but when exposed to sea water will harden. Therefore, you will see a number of vehicles may be passing through the shore. It is one of the sights attractive beaches in Lombok. The beach is very charming because it has white sand and clean, lots of coral reefs in the panati.
5. Pantai Tanjung Aan
Pantai Tanjung Aan is a clean, white sand beaches and clear blue sea water and become one of the characteristics in Lombok's tourist attractions. Geographically, the position of Pantai Tanjung Aan near Kuta Beach Lombok. The trip to Tanjung Aan from Mataram will run smoothly and seamlessly because the paved road will take you quickly to your destination. Access nets is quite good, and the facilities provided are also quite complete. When arrived at Tanjung Aan you will be greeted by a panorama of the beach with white sand so hypnotic.
6. Sekotong beach
Sekotong beach is located in the district of West Lombok. This beach is located in the district so called beach Sekotong Sekotong. It is located about 60 km from the capital, is very far away from the capital but the scenery will get paid even if the mileage rating that far. One of the attractions at this Lombok is within easy reach of a variety of routes. These Sekotong Beach flights from Mataram City will take about 1 hour with the distance of 60 mm pass through Sheet Harbour. If you take the route of Selong Belanak Beach in Central Lombok, then the distance to the beach this Sekotong be within approximately 75-85 km.
7. Sire beach
Sire Beach Lombok is located in the North with a distance of 35 kilometers from Mataram. When the weather is sunny, you can see Mount Rinjani from here. Its coastline is approximately 4 kilometers to travel very much like snorkeling, swimming, canoeing, and fishing. You do not even need to bother with your luggage to the play equipment, but there has been no supply of rental places for you who do need it as a complement. Sire Beach offers quite diverse tourism activities such as swimming, snorkeling, canoeing, up to fishing. If you do not bring travel equipment for these activities, do not worry because there are plenty of seashore Sire renting tools supporting the tour.
8. Turkish Kerandangan
Kerandangan beach location is in the north of Senggigi Beach. Not only charming community Mataram city, but some segments of society chili is very intriguing and tourists travelers. When the holidays, tourist sites will be visited by many travelers olehh. This beach. But the location of this tour already fallen into the hands of investors, but very neglected. Therefore, coastal managers started taking care of the beach by collecting levies to visitors who want to visit these tourist sites. Traders that there was also withdrawn levy every month. But during holidays levy is increased considering the number of citizens who want to visit tourist sites.
9. Pantai Batu Bolong
Pantai Batu Bolong has a huge rock that serve as a perforation in it. This beach is located on the Hindu temple in the summit. If you look down, tourists will see the Lombok Strait on the mountain Agung. These tourist sites are also frequently used by tourists to sunbathe and relax. Sunset seen from the location of this tour will be a very beautiful and interesting.
10. Sendang Gile
Sendang Gile its location in North Lombok, with a distance of about 3 hours drive from the city of Mataram. No region in the village of Senaru as its entrance to be able to get to places climbing Mount Rinjani. Because the source of water is also a lot like the one in Taman Narmada, and the waterfall is believed to be the water that can make youth and longevity when used to shower and wash my face. You only need to climb up 200 stairs in Sendang Gile to enjoy water that makes this ageless.
11. Waterfall Tiu Teja
Teja Waterfall Tiu is located in the village Santong, North Lombok. From the center of Mataram you can reach out for 2 hours journey by motorcycle. When up to the location, you will be presented with the natural panorama Lombok truly beautiful. Walking browse through them one by one step with the green of the trees will make all penatmu unravel. Waterfall Tiu Teja will be more beautiful when exposed to sunlight, a rainbow will appear.
12. Niagara Tibu Ijo
Niagara Tibu Ijo is the right choice. Located in the village of Kekait, District Gunungsari, West Lombok regency, West Nusa Tenggara. In this place you can enjoy the vast expanse of palm gardens, views of the hills and the natural atmosphere Lombok is still very natural. Why Tibu called Ijo, because at the bottom of the waterfall there is an unfounded. This waterfall can you datangai takes about 20 minutes from the city Mattaram.
13. Niagara bebet Bebasaq
Niagara bebet Bebasaq is still relatively new in Lombok. That's why when you look it up on Google, only status and photos on social media. Niagara bebet Bebasaq itself is located in the village of Lantan, Batukliang, Central Lombok. Not much information about the destination that is new to this Lombok. According to some, the access road to reach it somewhat difficult. In this place you will be presented with the natural scenery of Lombok is okay have. There is also a water seepage to sweep the dry leaves a gap between the rocks.
14. Desert Point Bangko-Bangko
Desert Point Bangko-Bangko a surf spot in Lombok that you should visit if you want to enjoy surfing or surfing. One of Indonesia's most popular surf spots have also been named as one of 10 places to surf with waves vicious version of the International Surf Association. In Desert Point, available lodges and bed as simple as a venue. Desert Point is one of the attractions of Lombok is interesting to visit, especially among surfers. Or you can also enjoy the natural surroundings by exploring the woods around the beach Bangko-Bangk. This forest type that has magrove covering approximately 2,169 hectares. And later when located on the cliff edge of this forest you will find the ruins of the former Japanese colonial forts along tempura tool tau cannon.
15. Gili Air, Gili Meno, and Gili Trawangan
Gili Air, Gili Meno, and Gili Trawangan is also called three exotic island of Lombok who became one of the favorite destinations of foreign tourists. Gili Trawangan is located in the western part of Lombok has sea water is clear and crisp, clean white sand, coral reefs and a variety of ornamental fish charming. Lots of tourists who come to this dyke to enjoy the beauty of the beach with swimming, snorkeling, and sunbathing. There are many public facilities are complete in Lombok tourist spot this one, including hotels and inns, restaurants, cafes, discos, and places of worship. Most favored by tourists are snorkeling, yoga, diving and surfing. So it was very interesting to visit later on when making Places of Interest in Lombok as a tourist destination.
16. Tanjung Bloam
Tanjung Bloam is one of the tourist attractions in Lombok is not known by many tourists. In addition, the access road to Tanjung Bloam also not so good. The road to this place is still not paved, well you will often get a barren scenery along the way to Cape Bloam. Cape is located in the southern part of Lombok, administratively included in the district of West Lombok. In Tanjung Bloam, you will witness a turtle conservation with habitat around the cliffs and is along the coastline stretching from the northern tip to the south. At the Cape, you will see two cliff rocks that flank the beach. Natural scenery in the beach is so beautiful, you'll find white sand and looked at how blue and crystal clear sea water which is owned Tanjung Bloam.
17. Segara Anak Lake
Segara Anak Lake Places in Lombok is highly recommended for those who are true nature lovers. Its location close to the crater of Mount Rinjani with the confidence of citizens who say that this is a sea which broke up over the island, because the color of the water so blue as the sea water so that the original referred to as the sea broke. Lovely to meet with the atmosphere of the afternoon, and the waves berpantulkan sweet twilight. In this lake, you who want to enjoy climbing Mount Rinjani is complete, you can use a travel agency that later will take you past the Lake Segara Anak and then stay on the lake shore. On the lake you will later traveled to fishing so that the preparation of fishing gear not to be missed as well.
18. Tanjung Ringgit
Tanjung Ringgit was situated at the southeastern tip of the island of Lombok and far also from the city of Mataram. Its location in the District Jerowaru separate, approximately 85 kilometers from the city of Mataram. Need to use private vehicles, for example cars, or hire is also not a problem, because there is no public transportation there. It is indeed far so rarely visited, even rarely known by the residents themselves.
19. Gulf Ekas
Ekas Bay Lombok is the place that is perfect for those who want to get more tranquility to be somewhere beautiful and calming. In this place there are fishermen that you can make friends lived together there because the place is simple and very charming natural scenery all. Sand that blanketed the bay looks like a sparkling gem. You will find a beautiful beach there, like Planet Beach, Coastal Sawung, Batunampar Beach, and others. There are magnificent cliffs in the east, and in the North can be seen towering Mount Rinjani is also very. Ekas Bay is located in a secluded and quiet area, with tents set up, it will feel how comfortable staying there.
20. Gili Kedis
Gili Kedis is An island that only takes 10 minutes to surround him is situated in the area of Sekotong, Southwest coast of Lombok island famous for its exotic beaches lined. Seawater is of course very clear and translucent. You can see a collection of corals and marine life to the naked eye. Oh yes, in the middle of the island there is a tree that you can make a place for ngadem.
21. Monkey Forest Pusuk
Monkey Forest Attractions Pusuk is very helpful for us to use as a tourist destination on the island of Lombok, it's still the same, namely in the area of Mount Rinjani as a habitat for monkeys whose number has reached hundreds. Well, you are advised to be careful when driving on the trip because a lot of monkeys playing in the street. You'll get to Sendang Gile, at the Monkey Forest Pusuk this resting place that makes it seem interesting Places. Although short, the tourists really enjoy the pleasant atmosphere for all. Monkey same state as that in Bali, like snatch food from the tourists who bring the food. So you have to be careful, and so try not to take food when it got here so a visit to the Places of Interest in Lombok stay comfortable.
22. Protected Forest Sesaot
Sesaot Protected Forest is a tourist place in the village Sesaot. Therefore touristic place called the Protected Forest Sesaot. Protected forest is next to the east end of Narmada districts. The protected forest has size river is clear and cold. There have many lesehan that offers many typical food chili tempting. The Lesehan didirkan among the sidelines of a tree, so it felt so unattractive and unappealing. Many tourists who want to enjoy typical food chili in this lesehan. The protected forest has such an impression since and quiet. But to come to this place must use two-wheeled vehicles.
23. Mount Malimbu
Mount Malimbu is a plateau that serve as a continuation of Senggigi Beach, tourist sites located in West Lombok, West Nusa Tenggara. At this location has white sand along the hills. If we are on top of the hill, visitors will be spoiled with beautiful scenery and enchanting hills. Sunset or sunset can be seen clearly from the peaks above. To go to the location of this tour, tourists have to bring food to avoid hunger during the tour here, it is because there is no rental or restaurant at tourist sites.
24. Bukit Merese
Merese hill located not far from Tanjung Aan. Although to be bercapek-tired first, you will find a landscape typical Lombonk exactly like in New Zealand. In addition, from the Mount Merese you can also see rows of beach in Lombok, as Seger Beach in the west, Pantai Batu Payung and Gili Children Anjakan east. Merese hill behind this there is some hidden beaches rarely visited.
25. Bukit Anak Dara
Bukit Anak Dara is one of the many hills that surround sekaian Sembalun. Its charm is able to enchant anyone to immediately rush to go to Lombok. The second highest hill in this Sembalun located in Sembalun Bumbung. In this place you can enjoy Lombok from another angle, which makes you also can touch the clouds and #ehemmm discard bitter memories. Bukit Anak Dara has a height of 1,921 meters above sea level and be the best place to see the sunrise in Lombok. Oh yes, from here you can also see the magnificent Mount Rinjani is legendary.
26. Traditional House Hamlet Sade
Dusun Sade is in Rambitan Village, District Pujut, Central Lombok. Peoples who inhabit this village are residents of the Sasak, the community which still adhere to traditional customs Lombok until now. The social system and the daily life of people in the hamlet of Sade is still very strong with Sasak tradition of a bygone era. Therefore, Hamlet Sade established as a tourist village in the province of West Nusa Tenggara. Characteristics of houses built of bamboo with a roof that comes from the leaves of reeds. In this place, the typical traditional Sasak house is still standing strong and well-maintained.
27. Pura Batu Bolong
Pura Batu Bolong is a Travel Sites in Lombok is located in the area of Senggigi, Lombok, precisely on the black rocks jutting into the sea. In the middle there is a hole that is exactly as Pura Batu Bolong. Well, to get into the temple is indeed required to wear yellow cloth around his waist, the same as in Bali. This is closely related to the background of Mount Agung beautiful scenery and background Lombok Strait also very beautiful, especially when dusk with the sun going down.
28. Lingsar
Lingsar, a temple that was used as a place of worship. This temple is used for people who are Hindus and Muslims Wetu telu as the place while celebrating the big day and run peribadatannya. Wetu telu Islam is the religion of Islam is not perfect because it is caused by the spread of the religion of Islam which was not perfectly into West Lombok.
29. town Ampenan
Ampenan city is a tourist spot located in the district of the city of Mataram. West Nusa Tenggara Lombok formerly the city center. This city west will be bordered by the Lombok Strait. Tourist attractions that can be found when you are here is the old town which is used as a relic of Lombok. In this city are also many villages that serve as a form of ethnic one contihnya is Bugis village.
30. Narmada Park
Narmada Park is a place in Lombok Tourism whose location is in the village of Lembuak, precisely in the eastern city of Mataram with a land area of 2 hectares. Historically, this place was built by the first king of Mataram in 1727 which is where ceremonies and rest area people kingdom. But gradually become a tourist spot as it exists now. This park has another uniqueness lies in its unique design that is a replica of Mount Rinjani, and some springs that are believed to create a youthful when drunk and washed to advance. Because as told earlier that the people there really believe in the values ​​that come from the ancestors. Tourist destinations in Lombok so this one is very interesting to visit.
31. Mayura Park
Taman Mayura is a tourist place rich in art, culture and history. All Hindu royal history as recorded in these attractions. Hindu kingdom triumphed in Lombok pulu around a few centuries ago. Judging from its name, Taman Mayura can be likened to a garden peacocks. Mayura means peacock. Giving the name is closely associated with the history of the park. Before the park was built, the site was once a thick forest that has banhyak venomous snakes and very dangerous. When tourists visiting tourist sites, such as the frenetic city would not be felt here. Travelers will encounter exactly the opposite impression in the form of a peaceful, quiet and beautiful. Sejuh atmosphere, green and very naturally be perceived by tourists who visit here. Not only that, but also will meet with a large pool.
32. Suranadi Park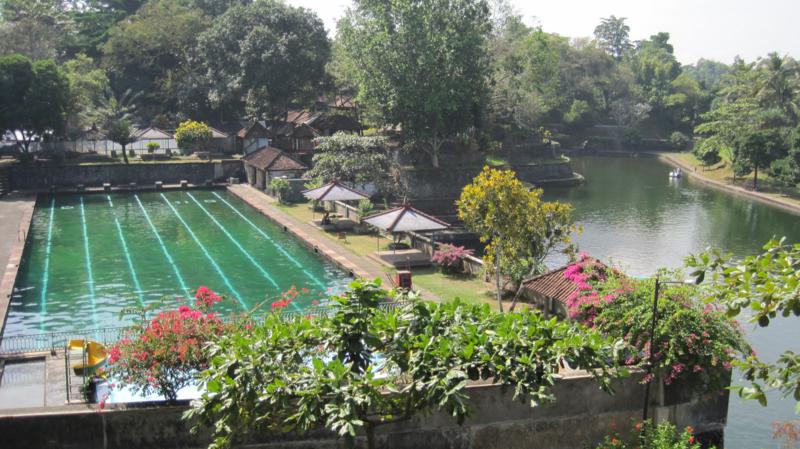 Suranadi park is one of the mainstay attractions on the island of Lombok. It is not, surprisingly, for this is because the scenery is so beautiful and charming. To travel to locations it takes about sepeuluh minutes from the airport. The park is located in the district of Narmada. The atmosphere is cool, lush and beautiful will be felt by tourists while in this park. Not only that, but travelers will also appreciate the typical food chili sold in front of the tourist sites.